Michelle Nussbaumer
Interior Designer and Author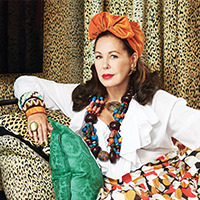 Acclaimed Interior Designer and trailblazer, Michelle Nussbaumer, is consistently named among the top designers and tastemakers in the country. Her projects and designs are frequently featured in the pages of leading national and international publications including House Beautiful, Elle Décor, Veranda, Architectural Digest, Marie Claire and German Elle Décor.  With offices based in Dallas and Switzerland, Michelle's interiors combine a fearless use of color and reflect an eclectic, yet timeless mix of bold patterns and influences from around the world to create her unmistakable signature style.  In 2009, she was honored as one of Elle Decor's 'Five Leading Women in Design' and one of her projects was named one of Veranda's '25 Most Beautiful Rooms'.
Globe-trotting Nussbaumer, channels her style and inspiration from the places she has lived and traveled such as Italy, Asia, Mexico, Switzerland, Morocco and India.  Elle Décor has called her "a fearless style monger known for her dizzying trove of antiques and signature line of furniture and lighting".  Nussbaumer's Dallas showroom Ceylon et Cie is home to her furniture collection Ceylon et Cie Portfolio, her eponymous Michelle Nussbaumer Fabric line, and celebrated Rock Candy line of jewelry, jewel-encrusted boxes and trays.  A collection of 18th, 19th and 20th century antiques and textiles are also showcased from her exotic travels.
Michelle has collaborated on various projects including wallpaper with Gracie Studio, Mexican glassware, Delft tabletop, a Gwyneth Paltrow Goop pop-up shop, plus modern wallpaper with the Newlon Collection. She has developed her own line of textiles, Michelle Nussbaumer Fabrics (a modern interpretation of classic ikats and indigenous patterns and prints) with Design Legacy and a new line launching in 2019 with Vervain. Michelle's travel and design blog "Dreaming in Color" and her design projects are the inspiration behind her newly released book, Wanderlust – Interiors that Bring the World Home with Rizzoli Books and she is currently in the process of working on her new book about Mexico.